intern at sassybot
Available internship
3D Environment/Prop Artist
Quick info:
Application deadline: December 1st, 2023
Internship Start: February, 2024


(depending on university requirements)

Duration: 4-12 months full-time, on location
Location: Breda/Hybrid
Apply: Send portfolio and motivation to internship@sassybot.com
Must studying in the EU or have a valid work permit for The Netherlands
---
We are looking for one 3D Environment/Prop Art student to join the team. As an intern, you can look forward to gaining experience and grow while working on our next exciting (unannounced) title. In this project, you will get hands-on responsibility and experience as we continue to develop after a successful multi-platform launch with Winkeltje: The Little Shop.
The internship will take up a minimum of 4 months, up to a maximum of 12 months. The internship will start on-site and may transition to hybrid. This internship can be part of your education, although it isn't mandatory. Contact us (internship@sassybot.com) or your internship coordinator for more information.
3D Environment/Prop Artist
Responsibilities
Concepting, creating, optimizing, and maintaining art assets that meet the artistic vision.
Efficient modelling, vertex coloring, UV unwrapping, texture painting, creating icons, and more.
When applying you will stand out if you have experience:
Communicating clearly and concisely both verbally and in writing.
Visualizing a concept by means of sketching, drawing, or illustrating.
Experience working with Maya.
Working in production pipelines to take ideas from concept to optimized game-ready assets.
Creating stylized assets and environments.
Iterating on assets by previewing it in a game engine like Unity.
Working with version control software like Perforce.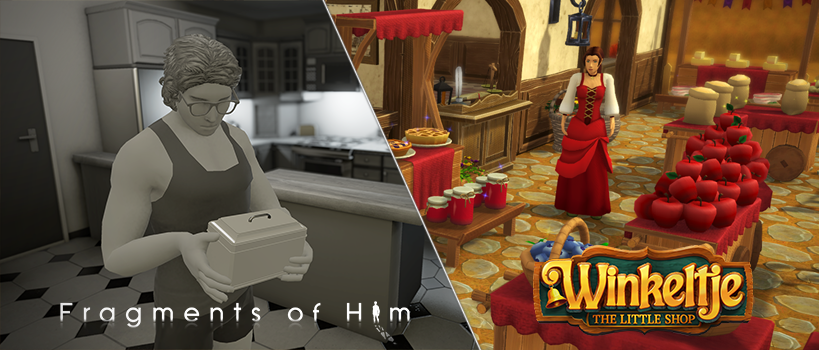 About Sassybot
Sassybot is an independent game development studio based in Breda and founded by BUAS IGAD alumni. It is in Sassybot's veins to create, experiment, learn, grow, and have fun. Sassybot is known for developing and self-publishing multi-platform single player games such as Fragments of Him and Winkeltje: The Little Shop.
The Project
We're working on an unannounced project!
Team
With a small and lean core team we value a diverse but solid skillset. With applicable skills in various areas of game development we believe you will be valuable to a team, project, and company. To that end, everyone on the team wears many hats in service of making a game to be proud of.
How to apply?
Please send your CV, portfolio, and a brief explanation of your motivation for applying to internship@sassybot.com.
You can expect a confirmation email after we have received your application within a week. If you have not received a confirmation, please don't hesitate to email again or get in touch via social media.